Providing Estate Litigation Services in New York City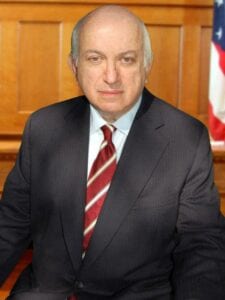 John Lang is the principal attorney and founder of our law firm.  His personal and professional background is exceptionally well-suited to trust and estate litigation, the exclusive focus of our practice.
Trust and estate litigation is not for the faint of heart.  It presents tough challenges. John Lang is a combat veteran of the United States Marine Corps.  John welcomes challenges and does not shy away from difficult cases.
Trust and estate litigation is a quest for justice.  It is often complicated by the dishonesty of those who are never satisfied by what they already have, but feel the need to take what rightfully belongs to others.  Earlier in his distinguished career, he served first as the Deputy Bureau Chief of the Frauds Bureau of the New York County District Attorney's Office and then as a Chief Assistant to Special Prosecutor in the New York State Attorney General's Office, uprooting official corruption as a senior trial attorney in The Special Prosecutions Bureau.  John knows how to detect, investigate, and expose financial crimes and breaches of trust.
A strong trust and estate litigation attorney must offer clients both strong litigation experience, familiarity with trusts and estates legal issues, as well as experience in practicing law before the New York Surrogate's Courts.  Many attorneys have one or more of these skills, but few have all of them.  John Lang does.  John has successfully tried dozens of cases to verdict in state and federal courses while with the government and then in private practice with two large firms before starting his own firm.  John has handled trust and estate litigation matters for more than two decades and has concentrated his law practice in trust and estate disputes almost exclusively for several years.  Most of our firm's caseload is before the New York State Surrogate's Courts in the New York Metro Area.
Success in trust and estate litigation requires the support of a strong team.  John Lang leads a great team. Attorney Denise Quarles has 30 years of experience in litigation, financial and medical regulation, and handling sensitive assignments for New York Supreme Court and Surrogate's Court judges, such as mediations, guardian ad litem appointments, and advising regarding proposed guardians.  Attorney Jill Teitel has 20 years of litigation experience working with the NYC Corporation Counsel, private law firms, and as a Court Attorney Referee with the King's County Surrogate's Court.  Attorney Illana Leiser's brings to her estate litigation representations her financial analyst background.  Ms. Leiser is a Chartered Financial Analyst and a Certified financial Planner.  The newest member of our team is attorney Philip M. Nostrand (Lt. Col, U.S.A.F., Ret.).  After serving in command positions with the U.S. Space Command, Phil Nostrand embarked on a second career as an attorney, earning a law degree in 2011.  We are honored to have Philip round out our estate and trust litigation team.
Most of all, a trust and estate litigator must have a heart.  He or she must genuinely care about clients, who are often still mourning the passing of a loved one, and then suddenly find themselves confronted by persons who, if not stopped, would wrongfully take from those clients their rightful legacy.  John Lang cares.  His experience includes volunteering for civil rights work, serving as lead counsel in a major pro bono class action on behalf of neglected children, and often taking on cases where a successful outcome first appeared out of reach.
Our approach to New York trust and estate litigation and will contests is to offer large-firm quality, small-firm attentiveness, and cost-conscious representation. We strive to provide "Concierge-Level Service" to our trust and estate litigation clients because we understand the grief, stress, conflict, fear, uncertainty, and outrage that many of them experience. They need an attorney who is both a strong, experienced courtroom advocate and a caring, compassionate human being. That combination of qualities has become the hallmark of our trust and estate litigation practice. Where appropriate, and upon client request, we offer a multidisciplinary collaborative approach, working with a psychologist, family business succession expert, and professionals from our firm to defuse and resolve estate controversies before they explode into costly, protracted litigation.
We are dedicated to providing you with the high-quality representation you expect from a larger firm, but with the personal touch and flexibility of a smaller firm. We are committed to combining high quality assistance with hands-on attention. Effective solutions for sophisticated legal issues. We draw upon our experience to provide creative solutions tailored to your specific needs—whether in person, in court, or through alternate measures, such as mediation or arbitration. Client-centered, cost-conscious representation. We strive to provide a good value while also doing what's best for our clients. We tailor our legal services to meet your needs. Our goal is to get the job done, effectively and efficiently.